A Pool With a Past
Read more about the history of Hatch End Swimming Pool.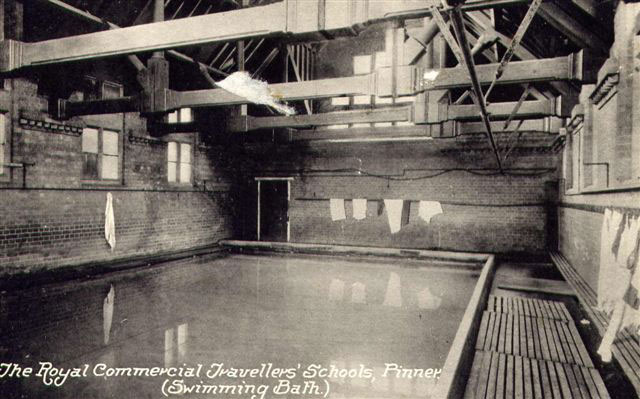 An early photo of Hatch End Pool
Diving at Hatch End Pool
Racing at Hatch End
Before the refurbishment
Before the refurbishment
Before the refurbishment
During the refurbishment
During the refurbishment
A refurbished pool
A refurbished pool
Hatch End Swimming Pool stands in the grounds of the Harrow Arts Centre in Hatch End. The beautiful site used to be home to the Royal Commercial Travellers School, and the current swimming pool was part of the school's facilities. The school was opened in 1855, and it was much larger back then, with further buildings on the current Morrisons supermarket site. When it shut down in 1967, Harrow Council bought the land and for a time it was home to the Harrow College of Education and St Theresa's School. From 1988, the site has been used as the Harrow Arts Centre. The 400 seat Elliott Hall has housed a range of events, from comedy and film to dance and theatre, and the various classrooms and buildings in the grounds are the venue for dance classes and a range of groups for local residents.
The pool itself is now run by Everyone Active/SLM, and it has been well maintained over the years, and well loved by the local community. Schools use the site for swimming lessons, and many local residents remember taking their first classes at Hatch End. The facility was fully refurbished to include a reception and new male and female changing rooms, as well as family changing facilities. The staff are welcoming, and we find the pool a perfect size for our lessons, and for training in. We have been hiring the pool for forty one years now, and we are proud to use such a lovely, historical building.
The video to the right is a step back in time to see what the school was like in the past - you can see the pool being used from 9:47 minutes.